Toilet anywhere
Installation includes all pipe works and electrical. Installation includes wash hand basin with hot and cold water, WC pan with macerator pump if required and LED light with switch.
We can provide free site survey to see if your space is suitable for toilet anywhere. With no obligation can be yours from € 1.200
Installation can take place over a weekend at no extra charge.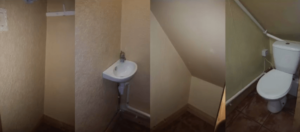 Most installations are done under the stairs turning that cluttered closet into a usable and convenient extra toilet. If you find climbing the stairs to use the bathroom a struggle then toilet anywhere is for you !! Many houses have only one bathroom and with larger families queuing for the bathroom can be a pain.
With toilet anywhere you no longer have to wait.
Stop waiting.  Call us now!