Saniflo Kitchen & Utility Room
Saniflo.irish service and repair all products in the Saniflo Kitchen & Utility room range and our aim is to carry out fast repairs, servicing and maintenance.
Waste water from dishwasher or washing machines, making the addition of a domestic kitchen or utility room easy, even when below or distant from a drain.
We can quickly diagnose all issues and problems, whether it be a lack of maintenance, mechanical/electrical failure of your machine, blockage in the macerator itself or associated pipework we will deal with your problem swiftly with a professional and helpful no mess guarantee.
For more information or to book a kitchen saniflo service or repair please contact us on 086 253 1769 or find us on Facebook or Twitter.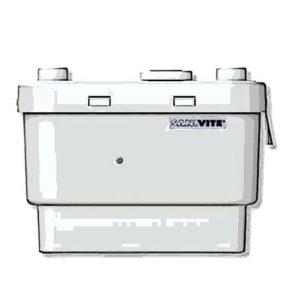 SANIVITE

Ideally suited to a kitchen or utility room, Sanivite's powerful pump has four inlets for connection to domestic sinks or appliances. With compact dimensions, Sanivite can be concealed in a kitchen unit or behind a demountable panel to give access for servicing.
Updated